3 Reasons why you need decking in your garden.
In my opinion, if you have a garden big enough for decking, you should get it. Let me paint a picture; Lockdown has been eased, small groups are allowed to gather in gardens again, so you invite your family or friends over, they go into your garden for the first time in over a year and they see this immaculate brand new decking as soon as they walk out. They can see the barbecue in one corner of the area, new furniture right in the middle of the decking and the garden just beyond the fencing. This, to me, sounds like the perfect way to bring that 'wow' factor to your outdoor area and really show off to you friends and family. If that's not enough to convince you, then here is 3 reasons why you should get decking in your house.
1. Flexibility in your garden.
Having decking can split your garden up but still has that flow to it. So, for example, you go into your garden and you step onto your decking. You have all your furniture there, barbecue, patio heater and any other decorative items plotted about. This is your lazy area where you like to relax, have a bite to eat and maybe a drink (or three) when you have guests. As you look onto the rest of your garden, you have a few steps leading onto your lawn where your activities take place. Maybe a bit of boules, a little game of football or some fun little games that the whole family takes part in. Although the decking and your lawn are separated, it all feels like one massive area, but you can easily distinguish the atmosphere between the two.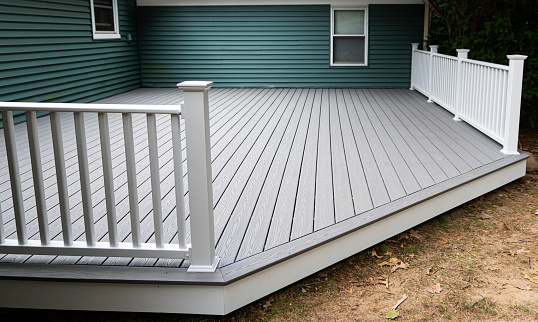 2. The natural look.
I know I said that having decking is an attractive, and immaculate decorative piece but as contradictory as this sounds, it's almost unnoticeable. What I am trying to say is, the naturality of the decking blends into the outdoor colours of the grass and trees. This may be down to personal preference but I prefer the look of the natural decking with the surroundings rather than concrete or paving which feels slightly more industrial. You may prefer paving or simply do not have the outdoor area for decking, in which case I will be posting a blog about paving soon too. But, when it comes to decking, even the most minor details such as blending with fence panels can make a difference. If you have painted your fence panels a nice shade of grey and you are concerned about the variety of colours in your garden, then there is no need to worry as decking is easy to stain with Anti-Slip Decking Stain and you can match the decking to your fence panels, allowing the natural flow in your garden.
3. Affordability and Value
The most beneficial aspect of decking is the affordability and value ratio. Typically, the average size of decking is around 300-400 sqft. So lets say you used our 3.6m Economy Decking Board, for a 300sqft decking you would spend £540 on the floor boards. Obviously this is a big investment but once you realise that adding decking to your garden and a few other decorative items here and there can add as much as 10% value to your property, can you really complain? This is down to the aesthetics, not only for the garden but for the inside of your home too. It almost extends your indoor living area seamlessly into the outdoors, the area from your front door to the back fence in your garden can almost be one.
If you want to see our decking range then click here and get started on renovating your home.
If you enjoyed this blog or it has helped you and you want to see more then please like, comment and share to help us and help others too.